News 2023
See our events page for the latest news about the
Wirral Bus & Tram Show and the Museum
---
Wirral Transport Museum and Heritage Tramway has been closed since April 2023. It is hoped the museum and tramway will be reopened before the end of October.
---
Important Announcement
The Transport Museum will be closed

temporarily from Saturday 15th April
The Tramway has closed temporarily as of today 13th April
This closure is necessary to allow for maintenance works to take place ahead of a scheduled inspection by the Office of Rail & Road next week. It is anticipated that the facilities will reopen following that inspection.
---
Important Announcement

Track repair work will commence on Monday 3rd April until Friday 7th April between Canning Street and Angelina's Cafe.
Therefore it is necessary that we cancel the tram service on Wednesday 5th April and Thursday 6th April of this coming week.
However, the Museum and Tea Roon will be open as usual on the above days.
The planned services on Easter Saturday, Sunday and Bank Holiday Monday should Not be affected.

---
Charles Thompson Mission
A food donation area for local people that are in genuine need will be in the Musum from this week. Charles Thompson mission in Birkenhead would be massively grateful for any food donations (jars,tins, pastas, dried goods, etc.) and are currently struggling to help people in crisis.

Please help where you can
---
Warrington Car 28

March 22 saw the exposure to sunlight, of Warrington Car 28, for the first time in about 5 years when the body was moved from where our Museum shop is today to the running shed. The body, which has stood on wooden blocks for five years, was finally moved onto its truck. The tram was then moved outside to allow it to be pushed onto the other line to allow access to the pit to continue maintenance on other tram cars.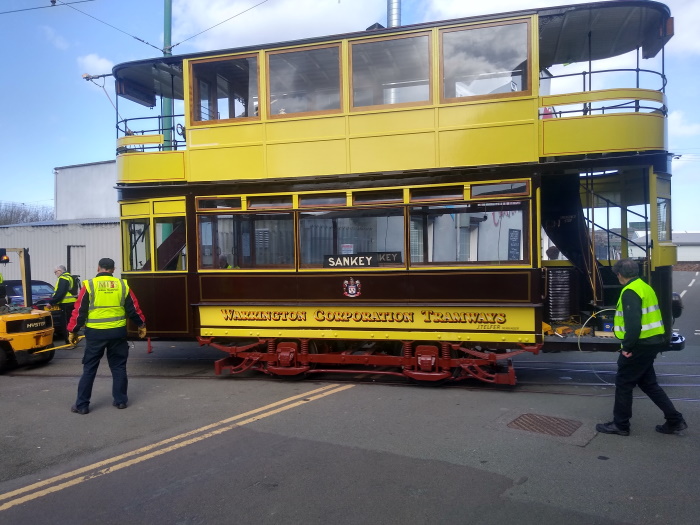 ---
---
---
---
---
---
---
---
HOME